When working in the Arctic you have to expect things to break or not to go as smoothly as you would like. Indeed this happened to us quite a few times, here is our most recent eventful day on the ice…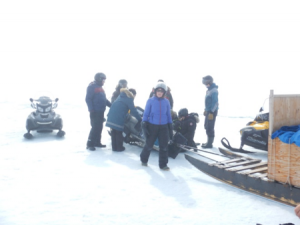 Like every day 1, the whole team was on its way to the ice-camp. We were split between 4 ski-doos and enjoying our ride. All over sudden, Simon Lambert-Girard stopped. We all gathered around him to see what was wrong… Jaypootie our guide was quick to give us the sentence… the ski-doos' suspensions had given up. The team therefore thought of ways to fix it… However it was a foggy day out on the ice… and some people were needed to keep an eye out bears. Lise Artigue, Justine Legras and Aurélie Delaforge volunteered for the job. They thought of a new way to do the bear-watch… the Macarenarctic.
After a while it was clear that the ski-doo could not be fixed there and then, and so we had to leave it there until we could put it on a kamotik and bring it back to town. This was not the only misfortune that was planned for us that day. After an amazing stop at the iceberg that was closest to the camp, on our way home once we had got the broken ski-doo on the kamotik … the kamotik then broke off from the ski-doo… at this point Jaypootie shouted "Iiiirrrrkkkk" the inuktituk way to say "dam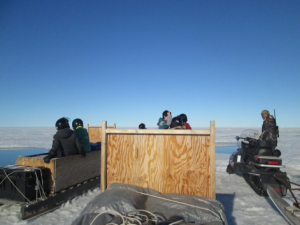 n it". Luckily, we had some spare rope to tie back the kamotik on a ski-doo and continued our trip back to town. Another problem then occurred… Qikiqtarjuaq did not have the piece we needed to fix the ski-doo… However to our great joy, Priscillia Gourvil stuck in Iqualuit –  due to bad weather – was coming to join us with the next flight available and was able to bring us the missing piece

Another great adventure in Qik!!!
Lise Artigue, Justine Legras and Aurélie Delaforge