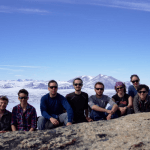 Anyone who spent a couple of weeks at the ice-camp will agree on at least one thing: days are usually long and exhausting. When Saturday night comes, the mood shifts into a more relaxed one; the next day is a day off!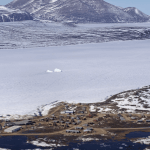 First of all, time for the Saturday BBQ tradition to take place. Everyone takes turns and participates in the making of this meal to give the cook a little break too! Once we are all satiated, the time comes to enjoy the evening (because NO, there's no scientific meeting tonight!). Sometimes the temptation to go to bed early wins, and other times some activities take place.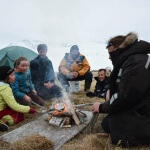 A couple of weeks ago, a small group went camping near the village with the Brossier family. With the proper equipment, camping above the Arctic Circle is a really nice and unique experience! The day after, the rest of the team joined us for a BBQ in the wild  and to visit the area.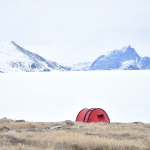 Sundays also give us the opportunity to visit the village and its surroundings. A rocky mountain that stands just behind the village offers a two hour hike with a great view. One of the many nice and simple ways to disconnect from the weekly routine!
Francis Dufour