"A passionate advocate for aquatic sciences and marine biology "
A  career focused in aquatic research
Presently chief coordinator of the Green Edge project at  the Takuvik Jo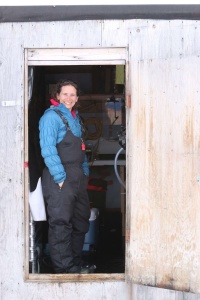 int International Laboratory, Marie-Hélène Forget has gained a lot of administrative experience along her professional pathway. She completed her BSc in Biology and MSc in Limnology at l'Université de Montréal before moving to Halifax's Dalhousie University, where her doctoral research involved using ocean colour remote sensing to study photosynthetic parameters of algae in the coastal waters of Nova Scotia. After graduation, she continued to work on ocean colour and  phytoplankton ecophysiology projects at the Bedford Institute of Oceanography (BIO; Fisheries and Oceans Canada), the largest ocean research station in the country.
It was in 2011 that she returned to her native Québec to take on the challenge of putting together the team of professionals and students that make up the Canada Excellence Research Chair in Remote Sensing of Canada's New Arctic Frontier, held by Marcel Babin. The CERC is a pillar of the Takuvik program and Marie-Hélène has been able to combine her scientific and management skills into her dream job!
With an omnipresent smile on her face, perseverant and calm, she is the perfect person to handle managerial tasks
Marie-Hélène's calm temperament hides a gregarious personality. Her fun loving ways and ability to bring levity  to stressful situations are appreciated by all of her colleagues. She is a tireless participant in all celebrations and activities where "she is always the last one on the dancefloor", confides one of her friends. A passionate runner, Marie  has completed several half marathons.  Her perseverance and tenacity have also recently led her to try her hand at basic circus gymnastics at her daughter's club. Apparently, its harder than it looks!
Far from lab benches and analytical equipment, Marie-Hélène knows the importance of sharing her passion for research and aquatic ecosystems, be it in an elementary school classroom or at  high-level scientific conferences. With her humanity and an omnipresent smile on her face, she is also the perfect person to handle the managerial tasks associated with large projects. Completely engaged in everything she does, Marie-Hélène leads by example, bringing out the best in those around her and motivating colleagues and students to be better scientists.
Timothé Paire and Julie Sansoulet