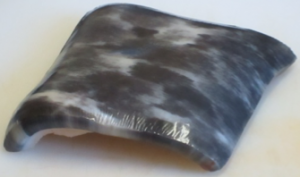 9th of July is the official Nunavut Day and we had the chance to enjoy the celebrations with the community. It all started with the feast in the schools' gymnasium, for menu we could find seal, maktak (Narval skin), caribou, bannock and stews composed of the different types of meat with vegetables. Once everyone had eaten and the gymnasium cleaned the activities could start.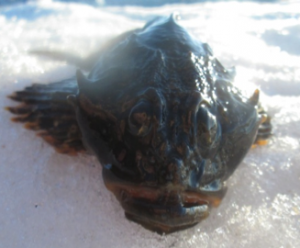 The afternoon then started with an ugly-fish fishing competition with prizes for the smallest and biggest ugly-fish for each category: children, women and men. For this people gathered around the shore, each with their own fishing rod. The competition only latest around 10 minutes as everyone was very quick and ran to show their fish to the judge. We then headed back to the gymnasium where the prizes for the fishing contest were given out. This was followed by a huge throw of sweets into the centre of the gymnasium during which both young and old participants ran to fill up their pockets.
Whilst lottery tickets and ice cream were given out, the most courageous couple of singers started to do the traditional throat-singing – here again there was different categories 5 to 9 years old and 13 and over. To our great satisfaction, our local friend Ronald who kindly helps us every day to load and unload the truck and who participated in the singing contest with his mum won!!!!!!
Then a game was organised for the elders with a dice and who ever would get the highest score would be kept in the game until one was left. Even our own Patrick Raimbault was noticed in the crowed and asked to play due to his George Clooney hair colour.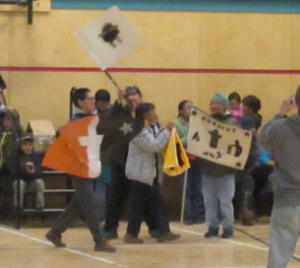 After this there was a home-made Nunavut flag contest, every participant showed off their making throughout the gymnasium, each different but just has nice! The Mayor of Qik then got up on the stage to give away Nunavut flags and pins. Lise Artigue and Aurélie Delaforge were very happy to obtain some Nunavut goodies 😀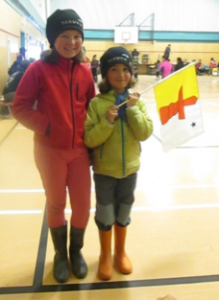 To show-off their strength both men and women participated in tugs-of-war contest. Then for the ones who had some energy left, a crazy dance contest. Joannie Ferland who always is full of energy participated was the favourite to win until an elder decided to step up the game and show-off her dentures and stole the win. The activities ended with a relay-race where people had to fill up a bucket with water in order to win.
This was an incredible opportunity for us to enjoy some time with the community and to celebrate Nunavut!
HAPPY NUNAVUT DAY TO ALL!!!!!!!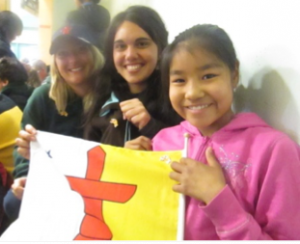 Lise Artigue and Aurélie Delaforge