In Brazil, the country in which I was born, a popular proverb states "Saco vazio não para em pé!", which means "an empty bag won't stand". It is widely use by parents to kids to illustrate the importance of a meal and usually a good meal. Chips and chocolates do not fill up the bag. Thousands of kms from Brazil, during the ice camp expedition, I had no problem to fill up "the bag" or "biddon" as we said many times at the camp…
It was a month of delicious dinners, lunches, barbecues and Sunday pizza nights. Our day started with coffee or tea, fresh orange juice (yes!!), bread and bacon and eggs for those who craving a home-cooked breakfast. We also had peanut butter, butter, cream cheese, Nutella, jam, yogurts and cereals…all available to satisfy our "cravings".  At the ice camp, after a morning of working, sampling water, ice or even running experiments on site in real time, we had our warm lunch, carefully prepared by our cook at "Base Camp" and distributed in thermoses (take a look on the pic).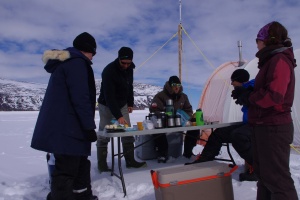 At this moment one could fully understand the meaning of comfort food. It was nothing special, just a regular pasta or rice dish with vegetables but the fact that it was warm food make a difference. But that was not all; we had soup, pieces of cheese and a cookie for dessert. You had to make sure you had only one cookie because there was only one per person! The day that somebody took two cookies resulted in a tense discussion at the evening science meeting! Frequently, for supper, we had fresh fish bought from local Inuit fishers. Like us, our cook was also adventurous with regard to the local cuisine, so we tried seal, narwhal caribou and seaweed.  The birthdays never passed without a cake, lucky people, unfortunately mine is in October.
Sunday was a free day for everyone, including Yannick, our cook. He prepared the pizza dough and left the toppings to our creativity. Sundays were always a moment of joy in his kitchen. He was never too far away and was always ready to help, in case we needed culinary guidance.
When it was possible, we also had fruits and lots of chamomile tea. Debbie  was always looking for fresh fruits in Qikiqtarjuaq's two small general stores. Science discussions and good conversations were done around a good cup of chamomile tea, especially after dinner.
If you want to have a taste of the Ice Camp cuisine, we have added 3 recipes from Yannick's kitchen: Arctic heaven cookies in 2 different flavors and Iceberg cheese cake…I will whip up a batch when the "saudade" (nostalgia) from the camp gets me…
Arctic heaven cookies
Oatmeal and raisins
430 ml oatmeal
180 ml flour
½ tea spoon of baking powder
½ tea spoon of cinnamon
Salt
1 egg
30 ml of mashed apple
180 ml of brown sugar
60 ml of honey
125 ml of butter
Mix well from 1 to 5 and separately 6 to 10. After mix the 2 parts, prepare the cookies and bake in 350°F (180°F).
Chocolate
375 ml flour
½ teaspoon of baking powder
Salt
180 ml of melted butter
250 ml of sugar
1 egg
1 egg yolk
vanilla
200g chocolate in pieces
Mix 1, to 3 well.  In a separate bowl mix 4 to 8. Combine the 2 mixturess, add the chocolate, prepare the cookies and bake at 350° (180°F) for 8 to 10 minutes.
Iceberg cheese cake
750g of Philadelphia cheese
180 ml of sugar
375g natural yogurt Greek
3 eggs
Vanilla
Mix 1 and 2, combine with 3, 4 and 5. On a graham cracker (or cookie) crumb crust (440 ml crumbs, 10 ml melted butter, 60 ml sugar), add the mixture and bake in 350°F (180°F) until the center is not completely cooked (about 25 minutes).
Adriana Lopes Dos Santos